Hello and Welcome

to my adopt me page where you can chose the cavapoo of your dreams....
A wonderful and very loving new Best Friend.
~Our Cavapoo puppies are just terrific~

On our adopt me page you will meet our cavapoo kids that are available to be adopted by loving families. We allow our puppies to be adopted into homes where they will be members of the family. Our cavapoo pups are smart, so sweet and a joy to own. They are perfect for the whole family. Cavapoo's are excellent with children and love being on laps and being cuddled.
They love to snuggle too.

Please contact me for questions or to reserve your special puppy.
Our lovely girls and handsome boys are $975.

Our Precious Puppies pictured on my adopt me page are currently available!

I know it is so hard to pick just one!!
"Our Baby Cavapoo's Are Just Impossible To Resist!!!
Baby Cavapoo News:
Enjoy our baby pictures..just so, so sweet~

We have beautiful babies available, scroll down to see their picture.
We are taking deposits and reservations now.

Our puppies will be very sweet and loving, they are smart and very special lap kids. They love being part of the family! They are perfect for the whole family.


Below are the current cavapoo puppies that are available.
Scroll down to see them.
We often receive request when our next cavapoo's will be born.

Watch our site for updates.
Contact me to be put on the waiting list.
Reserve your choice puppy early.
If you fall in love with a current puppy that you would like to reserve, you may send a 250. deposit by money order to reserve your choice puppy until he/she can come home with you.
We also accept deposit's for our upcoming puppies due in future months.
Deposits are non refundable.
We are currently accepting deposits of 250.00

for our lovable, huggable, fun loving cavapoo puppies!!

We are located at Bloomington Indiana
CHECK BELOW FOR THE PICTURES OF OUR ADORABLE CAVAPOO'S

Our lovable puppies are available to loving families...
Click on the pictures to view them larger
Our sweet adorable boys and girls will make your home complete~
nothing could be sweeter than having a cavapoo,
on your lap and by your feet.

Thank-you, I appreciate your interest in my wonderful cavapoo kids!


Our puppies come complete with wagging tails, they are terrific!

You'll have to agree, we have some of the cutest, sweetest puppies in the world!

Future baby cavapoo puppy news:
We plan to have red puppies available in August, be sure and get on our waiting list for one of our precious cavapoo's for your family. The best way to contact me to be put on the list is to send me a email with your interest and contact information.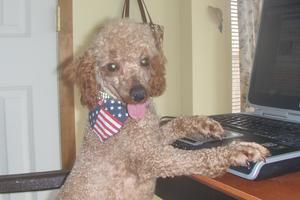 Hello, Thank-you so much for looking at my available kids to be adopted by loving families. Aren't they just beautiful, it is hard to pick just one of them. Call or write me if you have any questions, I am always glad to be of help, and I love to talk about my cavapoo kids. Thanks again and hope to hear from you soon. Have a wonderful happy day....Love and kisses Buttons
This site is written and maintained by Vicki at cavapoopuppies.com
All rights reserved. No copying of any content without written permission.

Our cavapoo puppies are sold to private homes only and to loving approved homes where they will be part of the family. We reserve the right to place them in homes of our choice. We reserve the right to cancel the sale of any puppy for any reason at any time during the adoption/sale process.

09-010