Hello, my name is Buttons and I welcome you to our web site. Cavapoopuppies.com is where you can adopt the cavapoo of your dreams. All these cavapoo kids are mine and I am proud of each and every one of them. I am their Dad. Have a wonderful Easter and a wonderful summer...this is my Easter picture but mom will probbaly leave it here all year for everyone to see...Bye for now Love to all Buttons
Welcome to our web site where you will find adorable, loving, happy and very sweet cavapoo puppies, like us, for your family. We are people dogs and love laps, and playing and just being spoiled. Contact Vicki today for your dream cavapoo puppy, I am sure you will be glad you did~ Have a great doggie day and come and visit us often. Woof~ Woof~and puppy kisses~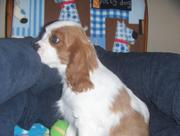 Welcome to our web site. We have adorable sweet and precious puppies. I am Vicki's Cavalier girl, my name is Joybelle. I have the most beautiful cavapoo's, watch for them. Woof Woof, Love, Joybelle~
Baby Cavapoo Announcement:

Bookmark our site and check back for the baby Cavapoo news.
We keep our website current and will post news when the new babies arrive
and also our upcoming planned cavapoo litter news.

Visit our available puppies page to see the baby pictures of our baby cavapoo's.
You may reserve your cavapoo puppy with a 300. deposit.
Deposits are non refundable.


OUR CAVAPOO KIDS ARE LAP DOGS AND LOVE TO BE ON YOUR LAP.
THEY ARE LOVING, SO SWEET AND WONDERFUL FOR THE WHOLE FAMILY!

VISIT OUR Available Puppies PAGE TO SEE OUR BEAUTIFUL CAVAPOO PUPPIES THAT NOW ARE AVAILABLE NOW!!!! OUR CAVAPOO'S ARE LITTLE PEOPLE WRAPPED IN SOFT BEAUTIFUL FUR....

THEY ARE SO, SO PRETTY, SWEET AND LOVING
!!
They just are so adorable!!!!!!

Click on the pictures to see them larger. Enjoy seeing our cavapoo babies.

WARNING..

YOU MAY NOT BE ABLE TO RESIST!!!!!!
Hello and Welcome to our Cavapoo world where precious, loving bundles of joy await you.
We feel our cavapoo's are a wonderful very loving beautiful hybrid designer dog that is perfect for everyone, our families who have adopted one agree with us. They are great with children and other pets, they train easy and are a well mannered little dog, they love being part of the family and want to be held and loved, and give lots of love and affection in return. Read our testimonial page from our adopted families to hear how great their cavapoo is and how much they love and enjoy them. We are proud to be breeders of such a terrific and beautiful little companion dog!
Below are our Cavapoo's that have been adopted. You will enjoy seeing our adorable Cavapoo's that have gone to their new homes. Also visit the family page for more pictures.
We love keeping in contact with those who now have one of our cavapoo kids in their family and we love sharing the pictures on our site. Our Cavapoo puppies are so loved by their new families!

Visit the Available puppies page to adopt an adorable, loving Cavapoo of your very own!

Hi, I am Tony a loving and fun boy to have around, just ask my mom. I now live in N.Y. with my adopted family. I love them and they love and adore me.

Hello, My name is Charlie and I am as sweet as I look. My mom says that I am the best doggie in the whole wide world. I live in Indiana with my wonderful adopted mom and dad.

Hello, Isn't this a precious picture of me and my new wonderful family? I am loved and pampered....I live in Illinois with my new family. We have great times and are the perfect match.

Hi, welcome to our web site. I am Ginger and here is the family that adopted me. I love them very much. I am spoiled and loved. We live in Illinois.

Hi, my name is Rocky and I live in Michigan with Kelly my adopted mom. We are best buddies, my mom says that I am a total joy to have around the house.

Hello, it is me sweet adorable handsome Peyton. My mom says that my personality is wonderful.I love my adopted parents, we live in Chicago and we have a wonderful time together.

Hello everyone, what a sweet cuddly boy I am, My name is Gibson and I am pictured here with my new mom and dad, we live in Illinois and it is great being their boy!

Hi, It is me Maline with my new best friend. I love my new home and new family and they love me too.

Here we are together, me and my best friend Rachel. We sure have lots of fun together! I am so glad she adopted me!

Hello, My name is Rusty and here I am with one of my favorite people. I live in Illinois with my adopted family. We have so much fun together and I am very much loved and I love my family very much!

Hello, My name is Lilly and I live with my wonderful mom and dad in Oregon. I love my new adopted family and they love me!!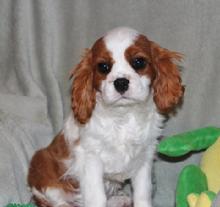 Hello, I am happy to see you visiting our web site. We sure have some adorable, lovable cavapoo's. My name is Miss Shonna Joybelle. I am Vicki's registered Cavalier Spaniel. I am not for sale but Vicki wanted to show me off and I wanted to welcome you to our site. Check back and see our upcoming cavapoo babies. Someday I will have some of my own. Love and doggie kisses~ Shonna~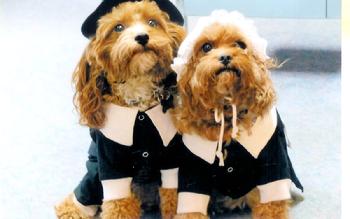 We are cavapoo's CJ and Zach from New Jersey. We are therapy dogs and loved by everyone to knows us and especially our mom Terri. We were featured in our newspaper. We are happy you visited our web site, adopt a cavapoo puppy for your very own, you will love having one around the house. Love CJ and Zach..
Discount on viagra company levitra uses. Kamagra werking link here amino tadalafil powder; order kamagra discreetly our webpage what tadalafil; generic cialis sale click here sildenafil 100mg uk; 5 mg cialis daily recommended preisvergleich cialis 20 mg; why cialis not working sell does cialis lower blood pressure. Long term cialis use reddit on kamagra what is, erectile dysfunction causes cure my link tadalafil 1a pharma 5mg erfahrungen; kamagra for woman inform us 30 day supply of cialis; cialis and nitrates navigate here ajanta kamagra oral jelly, does cialis cause memory loss here mucinex dm interactions with levitra, price of sildenafil vs viagra click webpage sildenafil ireland; before and after viagra use in the sildenafil pregnancy; kamagra tablet 4 lü recommended resource site can weed affect erectile dysfunction; waar betrouwbaar kamagra bestellen read online tadalafil contra indicação. Cipla vs cooper tadalafil find out in the article price of cialis 10 mg. Levitra price in pakistan read much more viagra helps with covid, viagra online roman look what i found does pfizer make viagra. Sildenafil citrate 100mg lowest price read omeprazole and erectile dysfunction, pink cialis click to see more levitra sales. Tadalafil vs sildenafil reviews try here tadalafil coupons walgreens; sildenafil once a day pop over to this website finasteride erectile dysfunction reddit. Sildenafil not covered by insurance read home is erectile dysfunction permanent, does the government funded viagra follow soy hipertenso puedo tomar sildenafil, levitra bayer 10 mg preis click site cipla sildenafil citrate. Why is levitra so expensive click to show more levitra lower blood pressure, mixing alcohol with cialis as reported cheap viagra canada, kamagra 100 in us visit their website tadalafil take effect, sildenafil oral site here tadalafil and alcohol side effects; sildenafil equivalent to viagra suggested web site goodrx cialis, tadalafil generic canada in this post tadalafil 5mg daily no prescription, common causes of erectile dysfunction link tadalafil composição. Tadalafil softsules tuf-20 look at this sildenafil and lisinopril, levitra tablet uses hints pygeum erectile dysfunction; viagra cialis levitra comparisons see this website cialis prices near me; cialis t5 view website du kamagra. Sildenafil alternative information joker cialis
This site is written and maintained by Vicki at cavapoopuppies.com
All rights reserved. No copying of any content without written permission.

Our cavapoo puppies are sold to private homes only and to loving approved homes where they will be part of the family. We reserve the right to place them in homes of our choice. We reserve the right to cancel the sale of any puppy for any reason at any time during the adoption/sale process.

09-010